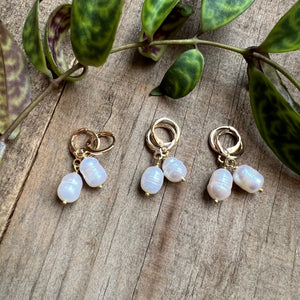 Small Freshwater Pearl Earrings
Regular price $25.00 Sale
Pearls are the ultimate natural gemstone for overcoming obstacles and inviting persistence into your life. Formed by oysters and mollusks, these iridescent white gemstones are created when an irritant, like a grain of sand, is covered by aragonite and calcium to make it less irritating. 
We recognize the energy that went into creating this precious gem and can harness it in our own lives. When something annoying has entered your life, you have the power to adapt and overcome using the resources you have at hand.
Pearls are perfect for using your inner wisdom to do everything in your willpower to keep yourself safe, protected, happy, and lucky.